What is composite edge bonding in Luton?
Composite edge bonding is a popular option with patients from Milton Keynes, Cranfield, Bedford, Bletchley and throughout Buckinghamshire because it is a fast and affordable way to update the look of your teeth.
Composite edge bonding uses dental bonding material that is applied to the edge of your teeth. It can be used to fix or disguise many dental flaws. Composite edge bonding can:
Neaten out worn edges of teeth
Disguise a chipped or fractured tooth
Give an even finish to jagged teeth
Elongate short or small looking teeth
Close gaps between teeth
Book an appointment for composite edge bonding and find out how it can improve your smile.
Before and After Composite Bonding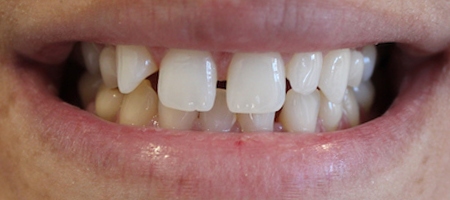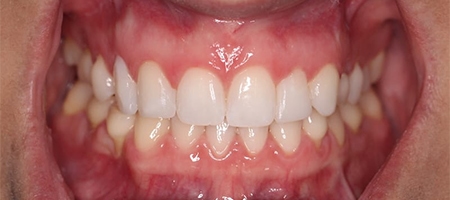 We've completed over
2500
cosmetic cases
and
5000 Invisalign Cases
Book your free consultation
for Composite Edge Bonding luton
What is the process for composite edge bonding in Milton Keynes?
At your free consultation we will talk through the benefits and process for composite edge bonding. Our expert cosmetic dentist will assess your mouth to make sure that your teeth and gums are healthy and suitable for composite edge bonding.
At your next appointment, the cosmetic dentist will start by smoothing out your teeth and picking a shade of dental bonding from a colour guide that best matches your teeth.
Next, the edge of your tooth or teeth will be gently etched to allow the conditioning liquid and composite edge bonding to stick.
The composite edge bonding is then applied to your tooth or teeth and is gently moulded and shaped into place. 
Once we are all happy with how your teeth look, the composite edge bonding is sealed to your teeth using a special UV light.
The final step in the process is to give your teeth a polish so that they have a smooth and even finish. Then you can leave the dental surgery in Milton Keynes with a brand-new smile!
What are the benefits of composite edge bonding in Luton?
Cranfield, Bedford, Milton Keynes and throughout Buckinghamshire are choosing composite edge bonding:
Composite edge bonding

is a fast treatment. The process is quicker than other

dental bonding

treatments because it only treats the edge of your tooth
Composite edge bonding

is an easy and affordable way to update your smile
There are no drills or anaesthetic needed with

composite edge bonding

– it is a painless treatment
The results from

composite edge bonding

are instant, you will notice the difference immediately after leaving the dental surgery in

Milton Keynes
The treatment for

composite edge bonding

is reversible, so if you change your mind, you can have the bonding removed