Teeth bonding In Milton Keynes from £180
Do you have a flaw with your teeth which is affecting your confidence? Perhaps it's something minor and doesn't warrant the need for braces or drastic dental treatment?
Composite bonding and re-shaping are affordable and painless treatments which quickly can update the appearance of your teeth. Hundreds of patients from Bletchley, Cranfield, Milton Keynes, Bedford and throughout Buckinghamshire are using composite bonding dental and re-shaping to improve their smile.
If you have chipped, cracked, discoloured, pointy, small, uneven or gappy teeth then composite bonding and dental re-shaping may be the best cosmetic dental treatments for you.
Before and After Composite Bonding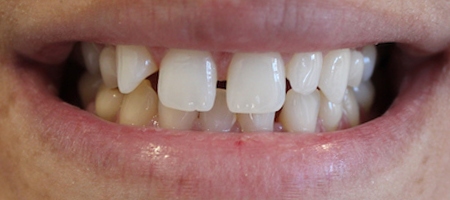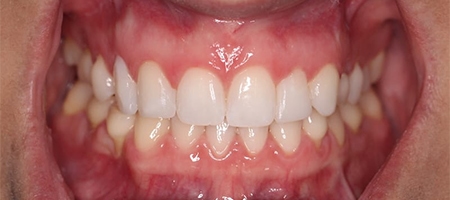 We've completed over
2500
cosmetic cases
and
5000 Invisalign Cases
Book your free consultation
for Composite Bonding
What is composite bonding and re-shaping in Milton Keynes?
Composite Bonding
Composite bonding is a cosmetic dental treatment that can be used to quickly change how your teeth look. Patients from Milton Keynes and beyond are using dental bonding to fill in unwanted gaps between teeth, disguise chips or cracks, cover up discoloured teeth or to add shape to small or uneven teeth.
Composite bonding uses a special dental resin that is moulded to your teeth to change the shape, colour or finish.
After your initial consultation, your cosmetic dentist will select a shade of resin that matches your tooth colour.
Your tooth is then prepared by gently etching at the surface. A conditioning liquid is applied which helps the dental bonding stick to your tooth. Your cosmetic dentist will then gently mould the resin on to your tooth. When everyone is happy with the results, a laser will be used to stick the resin to the tooth.
Composite bonding is completely painless and usually takes about an hour to complete. You may need more than one appointment time if you are treating several teeth.
Dental re-shaping
Dental re-shaping involves gently filing the tooth to give a neat and smooth finish. This can help with chipped teeth, uneven surfaces of teeth, worn down teeth or teeth that are slightly overlapping.
The process for dental re-shaping is fast and completely painless.
What are the benefits for composite bonding in Milton Keynes?
There are several reasons for getting composite bonding or re-shaping dental treatment in Buckinghamshire:
Composite bonding

and

re-shaping

are both fast treatments. You will leave the surgery in

Milton Keynes

with a new smile in about an hour.
Both dental treatments are an affordable way to update your smile.
Dental re-shaping

and

dental bonding

are painless treatments. There's no need for injections or drills.
The results from

composite bonding and dental re-shaping

are instant, you will notice the difference on leaving the dental practice.